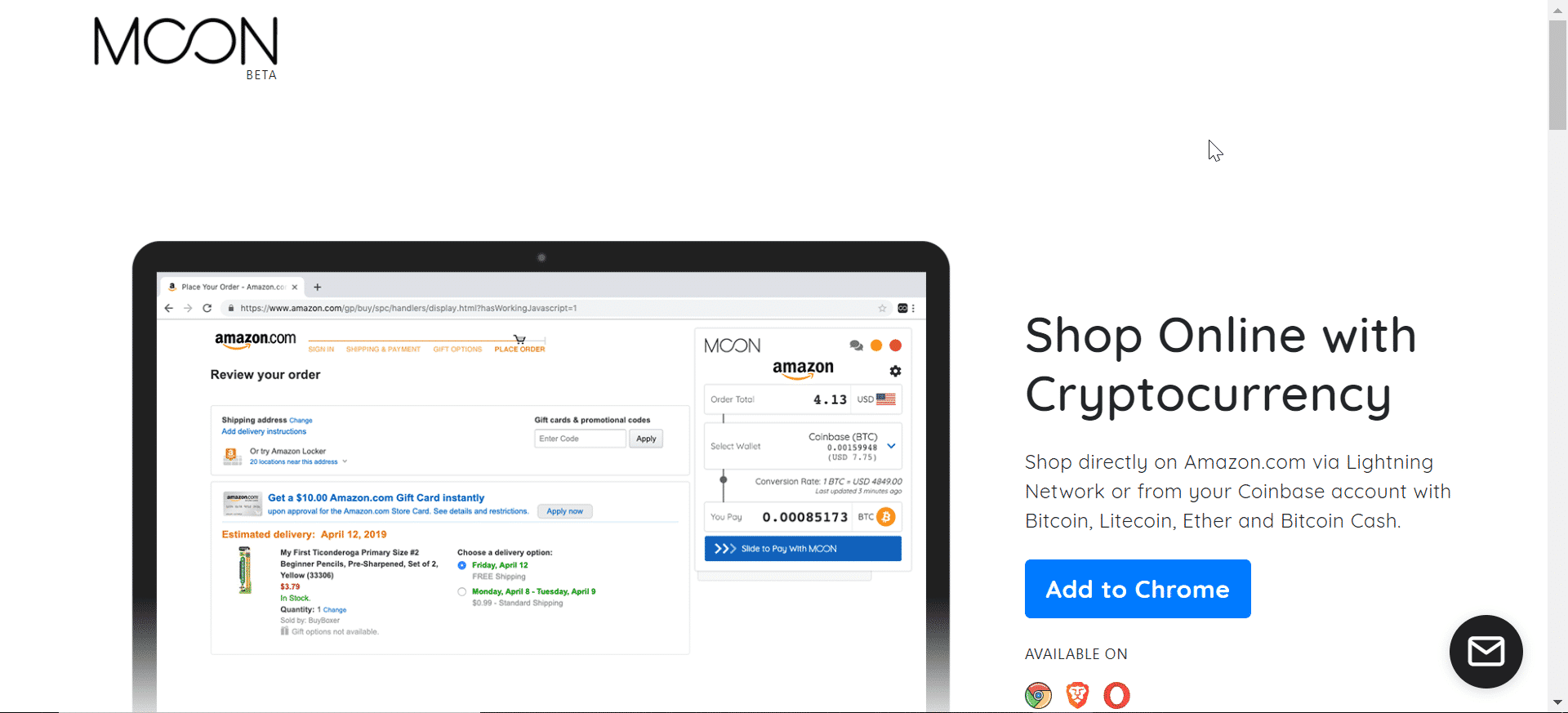 Cryptocurrency payment start-up Moon has released a desktop browser extension which will allow customers to pay for purchases on Amazon, in cryptocurrency. It will work on Google Chrome, Brave, and Opera.
E-retailers do not allow payments in cryptocurrency largely due to the volatility attached to them, as the prices of cryptocurrencies can fluctuate within hours. Also, fluctuation in any cryptocurrency affects its users worldwide as cryptocurrencies are global currencies and not limited by national boundaries. Till such times as the volatility of cryptocurrencies is addressed, or items are priced from end-to-end in cryptocurrency, thereby making fiat currency redundant, e-retailers will shy away from allowing them. One way out of this is immediate crypto to fiat conversion. Moon fulfills this requirement.
After a user installs the extension, Moon will automatically be able to know when the user is browsing on Amazon. Moon will install its payment widget, which will inform the user how much he will have to pay in cryptocurrency before the user makes a transaction.
If the user makes the transaction in cryptocurrency, it will go to Moon, which will convert it into an equivalent amount of fiat currency and pass it on to Amazon. Moon does not charge anything for this conversion.
What happens is that after Moon converts your cryptocurrency into fiat currency, it tops up your Amazon account and pays from the balance in your account.
In this way, cryptocurrencies can move away from being used only as an investment like on Bitcoin investment sites to being used for routine payments.
Moon allows users to make payments in Bitcoin, Litecoin, Ethereum, and Bitcoin Cash. Users will need to have an account on the Lightning Network. The transactions on the Bitcoin blockchain take several minutes. Lightning Network creates an off-chain channel which will allow several small transactions. When the payment channel is closed, only one transaction, which is the sum of all the small transactions is recorded on the blockchain. It saves time as well as transaction fees for the users. Users can also use a Coinbase account to make payments to Moon.
Moon is currently available only in the US and Canada. In the future, it plans to foray into Europe.  It also plans to offer its services on other e-commerce sites like Target, eBay, etc.