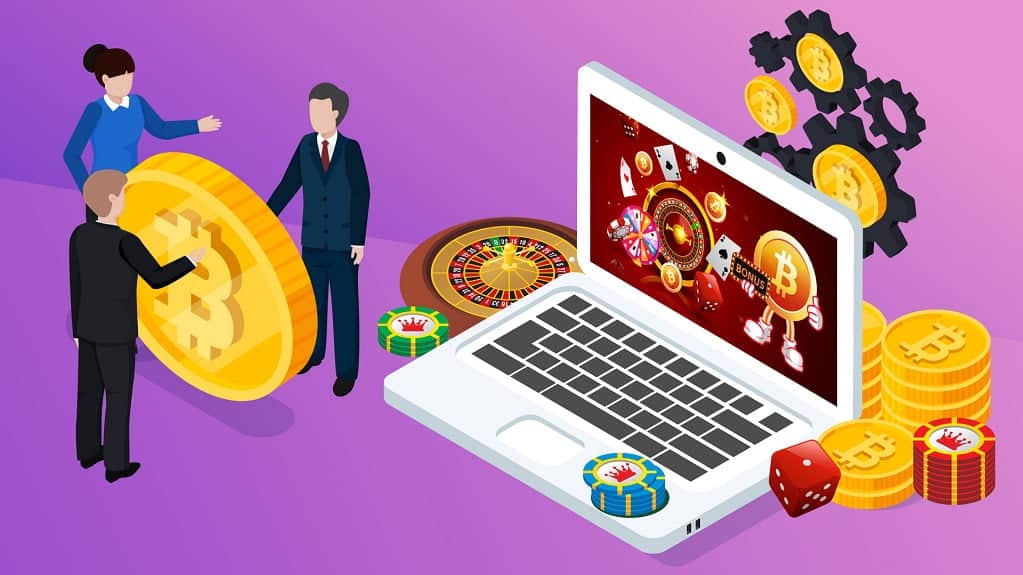 Online casinos have revolutionized the gambling industry in a way never imagined. Now they are more accessible and popular than ever. Besides hosting the latest games on their platforms, online casinos continue introducing new features to attract and engage players. It was not long ago when cryptocurrencies, such as Bitcoin, were rolled out in the financial market. Because of its decentralized nature, Bitcoin disrupted the exchange of traditional currencies.
Seeing Bitcoin's long-term potential, best crypto casino sites were quick to add Bitcoin in their payment section. Although Bitcoin is a non-regulated digital currency, its use is subject to jurisdiction. Consequently, developing casino gaming software that supports Bitcoin and convincing players about fair gambling are the real challenges.
Some online casinos are meant for Bitcoin users only, while a few offer it as an option. Players have the choice of gambling either directly or indirectly with Bitcoin. BTC Casinos accept Bitcoin as a direct deposit. But at some casinos, Bitcoin is accepted as a converted currency. Players must first deposit Bitcoin, convert it to fiat currency, use it for betting, and finally convert their real money winnings to Bitcoin. Since Bitcoin is highly volatile and its value changes in seconds, gambling at such casinos can affect your winnings.
What about transaction charges? It is common for fiat currency-operated casinos to charge a transaction fee, but does this apply to Bitcoin casinos? Let's find out.
What Do Casinos Charge if You Use Bitcoin?
The fundamental reason why Bitcoin casinos are gaining popularity is anonymity. Such variations are made possible due to online games not being bound to any laws and regulations. As far as transaction costs are concerned, the rules vary.
Bitcoin exchanges affiliated with casinos charge a fee from the gaming house. Most online casinos charge no fee on deposits and withdrawal and take the burden. They also offer unlimited free daily transactions. However, this is not true for all of them—some casinos deduct a certain amount from the Bitcoin transactions made by players. It goes something like this. A player deposits Bitcoin through their crypto wallet; the crypto exchange that facilitates the transaction charges the casino a fixed fee. In this case, the amount that a player incurs could be anywhere between 1%-2% of the deposit or withdrawal. The fluctuation is due to the difference in the denominations used by crypto wallets, for example, mBTC or uBTC. Here, mBTC reflects the Bitcoin denomination in millionth, while mBTC is the denomination for thousandth of a Bitcoin.
So, the answer to the question "Do Bitcoin casinos charge a transaction fee" is yes. Depending on the casino, it could be 1%-2% as a charge.
What Is the Role of Bitcoin in the Gambling Industry Today?
Bitcoin is now widely accepted for transaction purposes by different industries worldwide. Because there are no international authorities to control or regulate it, Bitcoin aids transactions between businesses internationally. Also, its rising market value is the prominent reason why Bitcoin is becoming a hot favorite.
We know that by migrating online, the gambling industry has expanded its reach. However, such businesses are still illegal in many parts of the world. Even if the player tries to gain access to an offshore casino, transactions never happen. So, what to do? Well, Bitcoin is the solution. This cryptocurrency works beyond borders and is accessible from anywhere in the world.
If you are joining a Bitcoin casino from a country where online gambling is restricted, here's what you can do.
Find a Bitcoin casino that allows players from your country.

Purchase some Bitcoin from a crypto exchange or platform.

Make a deposit using Bitcoin and choose a game to play.

Place a bet using Bitcoin from your casino account.

Withdraw your winnings in Bitcoin to your e-wallet.

Convert the Bitcoin to fiat currency.

Transfer the converted amount to your bank account.
In short, Bitcoin enables players to enjoy gambling at the casino of their choice. On the other hand, online casinos get an opportunity to grow their player base and increase their revenue.
Is Bitcoin Gambling Legal?
Even though online gambling is legal in many countries, Bitcoin has not been approved as a real currency. In such situations, laws applicable to fiat currency-based casinos do not apply to Bitcoin casinos, which means casinos cannot accept Bitcoin there. Since no specific Bitcoin gambling laws have been drafted yet, it can be seen both as legal and illegal at the same time. It is not easy to find a legal Bitcoin casino, so make sure you check the license when you find one.
Online Casinos offering Bitcoin games must have a license and permit to let players join from countries where Bitcoin is legal. It is worth noting that states that have made Bitcoin and Bitcoin casinos illegal can take action against such businesses and their players. That is why many Bitcoin casinos operate using anonymization techniques, making it hard for authorities to track them down.
Final Words
From game variations to introducing new payment methods, online casinos are trying everything to evolve with the changing gambling market. As you can see, the sole purpose behind operating a Bitcoin casino is to boost gambling revenue by adding more players.
As discussed in the article, it is safe to say that most Bitcoin casinos use free transactions. The ones that charge a transaction fee directly go to the crypto exchange—operators get nothing. Before indulging in Bitcoin gambling, keep in mind, both gambling and Bitcoin have legal complications and involve a lot of risks that could result in significant losses.