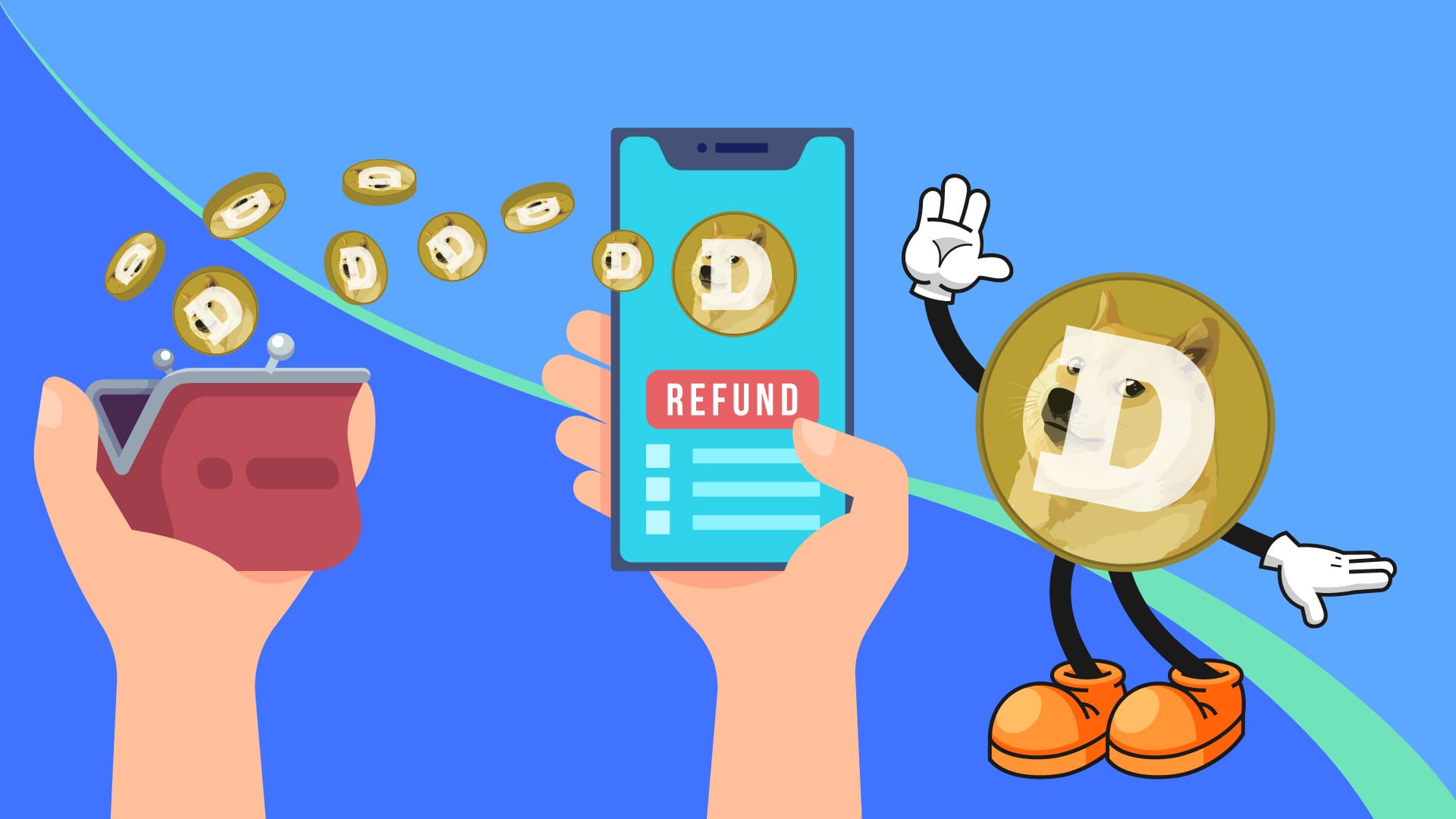 Overview
Dogecoin is the most popular cryptocurrency that trades with a ticker symbol DOGE. It is a cryptocurrency that is based on Litecoin, and it was initially designed as an alternative approach to Bitcoin, Ethereum, Litecoin, and various other cryptocurrencies. Dogecoin uses a script algorithm and proof-of-work to mine new coins that are similar to Bitcoin mining. Dogecoin was launched in 2013 just as a joke, and it features the dog Meme, which is the face of the Shiba Inu dog that we see today. In recent years, Dogecoin has become a huge success, and its popularity gained widespread in the crypto network. This article will see if it is possible to get a refund in Dogecoin when the transaction is carried out. 
Can you get a refund in Dogecoin?
If you are trying to exchange Dogecoin or Bitcoin, or any other cryptocurrency, the refund address needs to be your address from the wallet. This will help the system to determine how to auto-return the funds to your wallet. Suppose the system does not have an option of auto-return the funds, you need to open a support ticket, and the funds will be returned to the refund address that you provide. If you have not provided a refund address, and if there is a failed transaction, you need to reach out to the support team, which will help you to locate and return your funds to the wallet.
Dogecoin (DOGE) Transaction Tracking
You can find all the information that is related to the Dogecoin transactions, coin addresses, block contents in the ledger. Using Dogecoin block explorer, you can search for the relevant information regarding your transaction. Block explorer is an important tool that helps users in several ways during their cryptocurrency venture. 
Can you cash out Dogecoin?
Dogecoins are traded in several exchanges; several exchanges allow the exchange of fiat currencies like Euros or Dollars against cryptocurrencies. Aside from exchanges, there are also broker services that facilitate the buying process for their clients. These brokers permit the Dogecoin purchase at a fixed price and offer more payment solutions that are easier for beginners. One of the best conversions for Dogecoin is to use USD for instant cash out. You can also use the exchange to buy, sell, or transfer dogecoins by converting crypto to your preferred local currency.
Is Exchange's wallet safe to store Dogecoin?
There are several options to store Dogecoins, and one of the options is to store your Dogecoins through an exchange wallet. This is a convenient and quick option for you to access your funds immediately easily. You should keep in mind that cryptocurrency exchanges are not always safe, and you should be serious about the security of your coins.
Here are the few steps to safeguard your Dogecoins against threats – 
You should avoid keeping your coins in a single wallet.

You should enable two-factor authentication.

You should not leave your crypto coins in an exchange wallet if you are not planning to exchange them.

One of the best ways to secure your Dogecoins is through a hardware wallet, or you can use cold storage for securing them.
Are Private wallets safe to store Dogecoin?
You can consider storing your Dogecoins in an exchange wallet; we do not recommend this because it is risky, and you cannot retain full control of the wallet's private keys. This implies you cannot have full control of your funds. You should be aware that cryptocurrency exchanges are the target for hackers who would steal people's coins, and the safest way to store your Dogecoins is to move them to a private wallet.
It is safe to store your Dogecoins in your private wallet. Here are the different types of wallet to store Dogecoins – 
Hardware wallets

Cold wallets

Desktop wallets

Paper wallets

Hot wallets
Final Words
To summarise, Dogecoin is a very popular cryptocurrency, and it is easy to trade. Further, it charges low transaction fees. While transacting, you should be careful that funds are transferred to the right wallet address else, you need to contact the support team for a refund of the currency. Dogecoins are easy to set up and trade, and it is used as a tipping currency in the Reddit community for adding good contents. We can expect the Dogecoin price to grow in the future and know more about its returns to investors in the long-term.